Conference: OFTI 36 (2018). Theme: Speech – Interaction – Multimodality
EVENEMANG
Datum:
20 september 2018 11:00
-
21 september 2018 17:00
The 36th OFTI Conference will be held at Stockholm University on September 20th-21st 2018. The theme for this year's OFTI is speech, interaction and multimodality. This theme encompasses a broad spectrum of perspectives and different types of data from everyday to institutional settings. The conference is a collaboration between the Department of Education and the Department of Swedish and Multilingualism.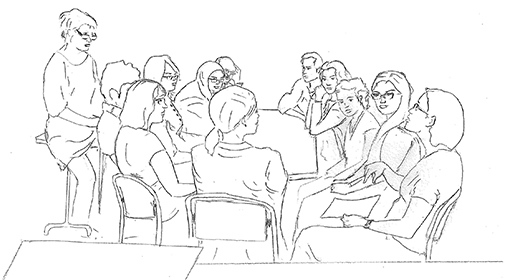 We welcome contributions within, but not limited to, the theme of the conference. As always, OFTI welcomes all types of research on language and interaction. The examples of questions than can be considered within this theme may include (this is by no means an exhaustive list):
How can studies on vocalisation, speech and other embodied resources (such as gazing, facial expressions, gestures, taste, touch) contribute to our understanding of social action?
What role can technique and artifacts play in interaction?
How can multilingualism take form in interaction?
How are institutional practices shaped in speech, interaction and multimodality?
How can studies on speech, interaction and multimodality contribute to our understanding of learning and education in general?
What does verbal and embodied behaviour look like in interaction with and between people with communicative and/or cognitive difficulties?
Plenary session
Professor emerita Karin Aronsson, Department of Child and Youth Studies, Stockholm University
Assoc. Professor Oskar Lindwall, Department of Education, Communication and Learning, University of Gothenburg
Professor Simona Pekarek Doehler, Centre de Linguistique Apliquée, Neuchâtel University, Switzerland
Read more: Plenarföredrag OFTI 36 (2018)
Conference program

OFTI-program 2018 (211 Kb)
Abstracts

Abstracts OFTI 2018 (237 Kb)
Conference presentations
Research presentation sessions: 30 minutes (20-minutes presentation and 10-minutes discussion)
Data sessions: 45 minutes
Important dates
| | |
| --- | --- |
| 2 May: | Registration opens |
| 31 Aug: | Deadline for abstracts of presentations and data sessions (50-150 words) |
| 3 Sept: | Notification of acceptance |
| 7 Sept: | Registration closes |
Conference dinner
Thursday 20th September (350 sek/pers. excl. drinks), at the Lebanon Meza Lounge at 18:30. See Program OFTI 36 (2018).
Contact
Welcome!
Ulrika Bennerstedt, Jessica Douglah, Carles Fuster Sansalvador, Silvia Kunitz, Gustav Lymer, Ali Reza Majlesi, Marie Nelson, Catrin Norrby, Gunlög Sundberg
Senast uppdaterad: 19 september 2018
Webbredaktör: Solveig Hauser
Sidansvarig: EDU