Visit från Tampere University of Technology and University of Tampere
On October 17, we had guests from two collaborating universities in Finland. Professor Petri Nokelainen and Phd candidate Heta Rintala from Tampere University of Technology and Phd candidate Laura Pylväs from University of Tampere.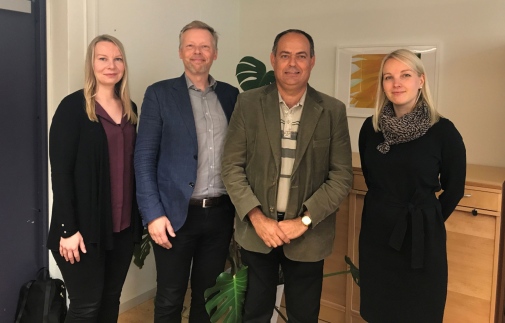 The aim of the visit was to present their research and to discuss further cooperation with colleagues from the research group Vocational Education and Training, VET, at the Department of Education. This is also part of already excisting cooperation between the universities, in identifying areas of collaboration in research. Tampere University of Technology is one of the leading universities internationellay in the field of technology and vocational training.
Professor Nokelainen is the only professor in engineering and pedagogy in Finland, with a long record of research connected to vocational training (yrkesutbildning).
Last updated: October 17, 2017
Page editor: Solveig Hauser
Source: EDU