Build your future - build your network
At the Department of Education we offer courses in Education with an international focus. Here you can study our Master's Programme in International and Comparative Education, to which we attract students from around the world. Your future network.
Currently in our Master's Programme in International and Comparative Education, we have students from Bangladesh, Columbia, China, Finland, Germany, Greece, Kenya, Italy, Ireland, Hungary, Malawi, the Netherlands, Palestine, Russia, Senegal, South Korea, Spain, Sweden, Turkey, the United Kingdom, the United States of America, and Zambia.
Our alumni have moved on to careers in Education as PhD Students at universities worldwide, at government agencies such as the European Commission, at research institutes and NGOs, and in school and university administration.
Here you can read about alumna Annelijne Verburgt from the Netherlands. She held a two-minute speech in the General Assembly at the United Nations in New York in July, 2017. Click here
Here you can read about one of our alumna Desak Putu Deni Putri Adnyani from Bali, Indonesia. Today she works as an Educational Consultant for an Australian company in Jakarta. Click here
Here you will find an interview with alumn Xinglong Du who works as a Social Secretary at the Consulate General of Sweden in Shanghai. Click here
Finally, you can find more alumni profiles on the Meet our alumni page. Click here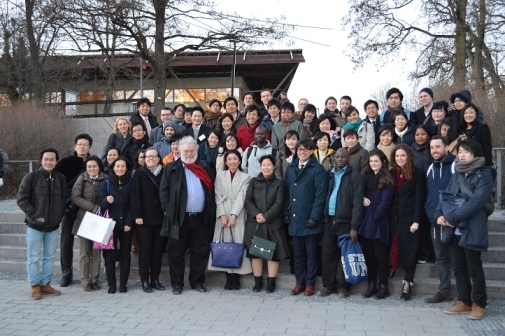 From a seminar with Tokyo University on the emerging research issues in education in the era of globalization.
Last updated: October 31, 2017
Page editor: Solveig Hauser
Source: EDU