A visit by the Cambodian Ministry of Education
On May 26th we had a delegation from Cambodia visiting the Department to learn about the Swedish Education system and teacher education, more specifically. As part of the delegation, we also had officials from the Swedish School Inspectorate (Skolinspektionen) and from the Swedish International Development Cooperation Agency (Sida).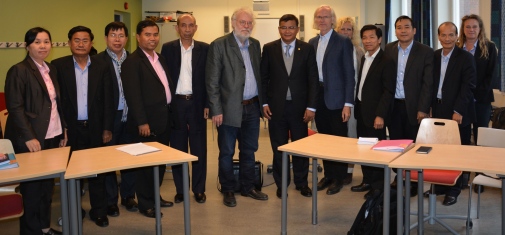 Among the distinguished guest were, Mr. H.E Hang Chuon Naron MoEys, Minister of Education, Mr. H.E Nat Bunroeun MoEYS, Minister of State, and key officials of the Education Quality Assurance Department, at the Ministry of Education.
Full list of participants:
H.E Hang Chuon Naron MoEys (Minister of Education)
H.E Nat Bunroeun MoEYS (Minister of State)
Mr. Ung Chinna EQAD (Director EQAD, Education Quality Assurance Department)
Mrs. Put Nessay EQAD (vice Director at EQAD)
H.E Put Samith MoEYS (GD elementary school)
Mr. Lim Sothea EMIS (Director, Education statistics)
H.E Sieng Sovanna NIE (National Institute of Education, teacher training)
Mr. Meak Sophea EQAD
H.E Chey Sarin MoEYS (GD)
Magnus Saemundsson, Swedish International Development Cooperation Agency (Sida)
Carina Abréu, Swedish Schools Inspectorate (Skolinspektionen)
Last updated: July 7, 2016
Page editor: Emma West
Source: Department of Education