PhD Defence: Corrado Matta, Thesis title: A Field of Veiled Continuities
EVENEMANG
Datum:
05 maj 2017 13:00
-
05 maj 2017 15:00
Plats:
De Geersalen, Geovetenskapens hus, Svante Arrhenius väg 14
Corrado Matta will defend his academic dissertation in Education. Disputationen kommer att hållas på engelska/The Phd-defence will be in English.
Avhandlingstitel/Thesis title
A Field of Veiled Continuities. Studies in the methodology and theory of educational research (compilation thesis).
Opponent
Professor Carl Martin Allwood, Department of Psychology, University of Gothenburg.
Betygsnämnsledamöter/Committee members
Professor Ninni Wahlström, Institutionen för utbildningsvetenskap, Linnaeus University, Professor Lise Roll Pettersson, Department of Special Education, Stockholm University, and Associate Professor Carina Carlhed, Department of Education , Stockholm University.
Huvudhandledare och ordförande/Supervisor and Chairperson
Professor Klas Roth, Department of Education, Stockholm University.
Handledare/Supervisor
Associate Professor Anna-Lena Kempe, Department of Education, Stockholm University and Professor Till Grüne-Yanoff, Philosophy, Royal Institute of Technology (KTH).
Avhandlingsbeskrivning/Abstract
Empirical educational research enjoys a methodological and theoretical debate that is characterized by a number of unresolved and lively debated controversies. This compilation thesis is an attempt of contributing to this debate using the toolbox of philosophy of science.
The thesis consists of an introductory chapter and four essays. In the introductory chapter I identify three methodological and theoretical controversies that are discussed within the field of educational science. These are:
The controversy concerning the scientific status of educational research.
The controversy between cognitive and sociocultural theories of learning
The controversy between realist and constructionist theories of learning
I provide in the essays a critical assessment of the claims behind each of these controversies, and argue for an alternative reconstruction of these issues. In the introductory chapter I summarize the conclusions that are drawn in the papers and discuss how these conclusions can provide a theoretical and practical solution of the three aforementioned methodological and theoretical controversies.  
Länk till avhandlingen i fulltext i DiVA/ Open Access in DiVA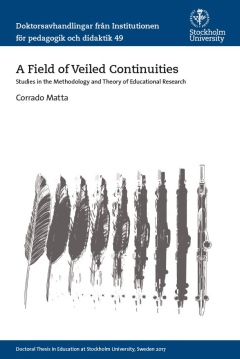 Senast uppdaterad: 27 april 2017
Webbredaktör: Karin Larsson
Sidansvarig: IPD