Alumni from Ethiopia visit IIE
Institute of International Education (IIE) had the privilege to host a visit from Addis Ababa University (AAU), Ethiopia, on the 16th of May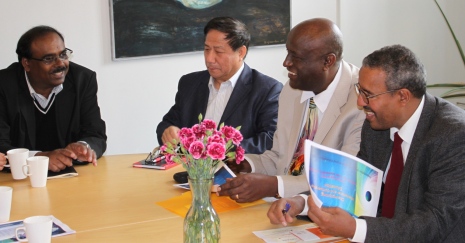 The visit led by the University President, Dr. Admasu Tesgaye Agidew, included two of his Vice Presidents, Prof. Masresha Fetene Workneh and Dr. Hirut Woldemariam Teketel, as well as Dr. Teshome Nekatibeb Begna - alumni of the Institute of International Education (IIE) and current Director for the Office of External relations at the prestigious Ethiopian University. A representative from the Ethiopian Embassy, SIDA and the Director from the International Office at Stockholm University and several members of Faculty and Staff from IIE were also in attendance.
The delegation was welcomed by Head and Professor of Institute, IIE, Professor Vinayagum Chinapah who proceeded to share important information in regards to current institutional collaborations and achieved successes. It was acknowledged that the strength of the Department of Education at SU is the combination of pedagogy, didactics and internationalization.
The President, Dr. Admasu Tesgaye Agidew and the other representatives from AAU highlighted their wish to establish collaboration with Stockholm University through the means of exchange of staff and students and joint research possibilities; specifically mentioning Public Administration, Management and Policy as an area of interest. Dr. Teshome Nekatibeb Begna expressed his wish to develop a centre of excellence for research specifically focused on International and Comparative Education to inform Ethiopian policy makers.
It was a very productive meeting as both institutions envision a long term sustainable relationship.
After the sharing of experiences, it was suggested by IIE that future cooperation between Ethiopia and Sweden be based off the current in-place successful cooperation. (Such as the current exchange of students and researchers, in addition to interaction with IIBA-UNESCO etc.)
IIE gave the following recommendations in response to the many inquiries made by the AAU Delegates.
AAU should continue to collaborate with established institutions of excellence such as UNESCO-IIBA
Inter-University and Inter-Country long–term sustainable cooperation is needed
"Public Administration, Management and Policy" requires empowerment of school leaders and managers, it is imperative to bring quality. 4) In regards to Capacity Development, sustainable human resources are needed; if you do not develop capacity than you cannot expect quality.
Last updated: May 24, 2012
Page editor: Eva Lundin
Source: Department of Education